This site uses cookies. By using the site you accept our
cookie policy
.
Our Books

We actively encourage teenagers who attend Maths Inspiration shows to read around the subject. Some of our speakers have written books that are easily accessible to Year 11s and 12s, several of which are listed here. You can buy copies using the links to Amazon or signed copies from Mathsgear where indicated.
Things to Make and Do in the Fourth Dimension

Matt Parker's engaging journey through the possibilities of numbers, with audience participation. This book can be cut, drawn in, folded into shapes and will even take you to the fourth dimension.

1089 and All That

A short, very accessible introduction to a wide range of mathematical ideas, this is an ideal follow-up read to David Acheson's talk Proof, Pizza and the Electric Guitar.

Why do Buses Come in Threes?

The Hidden Mathematics of Everyday Life, this book has 19 chapters each based around a question such as "How do you explain a coincidence?", "What's the best bet?". The chapter on game theory ties in with Rob Eastaway's talk From Pepsi to Peace Deals.


The Hidden Mathematics of Sport

A mix of analysis, sporting history and trivia, this book touches on about 50 different sports. It includes the game theory of taking penalties, and an explanation of why Lampard's shot against Germany must have crossed the line, tying in with Hugh Hunt's talk on spinning balls.


How Many Socks Make a Pair?

This book is about mathematical surprises linked to everyday objects, such as socks, envelopes, newspapers and atlases. It assumes little mathematical knowledge and while written for a general adult audience it is readily accessible to a bright 14 year old. There are sections on intuition and card tricks that have some overlap with Rob Eastaway's talk When Maths meets Psychology.



Buy from Amazon

Fermat's Last Theorem

Simon Singh's international bestseller, a great explanation of how this apparently simple problem took hundreds of years to solve, with lots of mathematical puzzles and diversions along the way.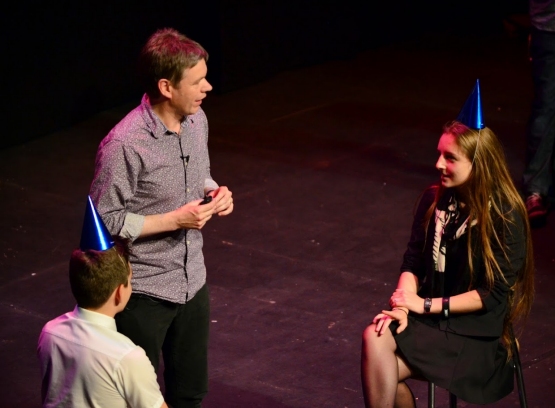 "We actively encourage teenagers who attend Maths Inspiration shows to read around the subject. "
- Rob Eastaway