History

2003, Maths authors and speakers Rob Eastaway and Simon Singh realise that outside London there are almost no public maths events suitable for Year 11s/12s (the two school stages when pupils can opt to drop maths). They organise a lecture event in a hall linked to Manchester University and run two events, morning and afternoon. The aim is to show that there's more to maths than taking exams. About 500 attend in total, but the venue is hot, expensive and not in a convenient location.
2004 Rob Eastaway decides to repeat the event, but this time in a theatre in the centre of Manchester - the Royal Exchange. Not only is the location better, but a theatre with its raked seating, lighting and good acoustics has far more impact than a large hall. Tickets are £5, heavily subsidised by sponsors PwC, so that the event will be affordable for all schools. The event is called Maths Inspiration and our tradition of holding all our events in theatres and concert halls is born. The speakers are Colin Wright, Helen Joyce (later to become a senior editor at The Economist) and Rob Eastaway, with Claire Ellis as compere. Two sell-out shows reach nearly 700 teenagers.
2005-6 The programme expands to theatres in Birmingham, Greenwich and Cardiff. Over 2,500 attend shows. Simon Singh, Hugh Hunt, David Acheson make their first Maths Inspiration appearances.
2007-10 Cambridge, Reading, Southampton, Liverpool, Leeds, Bath and Nottingham have all become venues, with annual attendance over 8,000. Lots of new speakers have appeared, including Matt Parker (pre-Numberphile), Marcus du Sautoy (before he became a TV celebrity), engineer and presenter Kate Bellingham, Oscar animation winner Sue Rowe and London Eye engineer John Roberts. We also trial mini-shows in several venues, including the Theatre by the Lake in Keswick.
2011-12 We have outgrown the Criterion Theatre in London and the Adrian Boult Concert Hall in Birmingham, and move to larger theatres in those cities. Our North East show moves from the Gala in Durham to the Theatre Royal in Newcastle. Annual attendance exceeds 10,000 for the first time. Humour formally becomes a priority for Maths Inspiration shows and a group of speakers spend two days in Bath learning the techniques of stand-up comedy.
2013 With Stage on Screen, we record six shows in two days at Greenwich Theatre, to create our set of DVDs. The audiences are Year 9 and 10 pupils. This begins our tradition of holding Year 9/10 shows at the end of the summer term.
2014 We celebrate our tenth anniversary with a reception below the OXO Tower in London. We meet our aim of having at least one woman speaker at each show. Coralie Colmez, Hannah Fry and Lucie Green are three of our speakers.
2015 At the invitation of the Maths Assocation of NSW, we are asked to perform shows in Sydney. The shows feature on the national TV news as an example of how to make maths relevant and exciting for teenagers. Our summer shows in partnership with the Further Maths Support Programme include shows at the Bloomsbury Theatre, with special guest Aleksandr Meerkat. In the academic year 2014-15, our total attendance including shows in Australia is nearly 20,000.
2016 We approach the National Theatre, who agree to let us perform 'The Curious Coincidence of Maths in the Day-Time' on the award-winning 'Curious' set at the Gielgud Theatre. Over 4,000 attend the six shows presented by Matt Parker, Hannah Fry, Ben Sparks and Rob Eastaway.
2018 We are invited by theatres in Sydney and Melbourne to present Curious shows on top of the touring production. Meanwhile the Museum of Math in New York invite us to do our first ever show in the USA. And thanks to support from Edinburgh University, we do our first shows in Scotland.
2020-21 Covid and lockdown force us to switch to doing live online shows. Some of these reach huge audiences, including our Climate Change show for which nearly 200 schools sign up, and we estimate a live audience of about 10,000. However, online shows lack the energy of a theatre and we are delighted when we return to in person shows in November 2021, starting at the Chester Storyhouse theatre.
2023 An audience of over 1,000 attend our Pi Day show at the Bristol Hippodrome, hosted by Matt Parker, with Zoe Griffiths, Rob Eastaway and Colin Wright. That's our record attendance at a single show.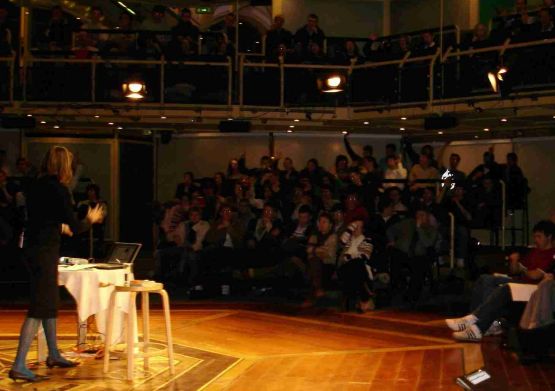 One of our first shows, at Manchester's Royal Exchange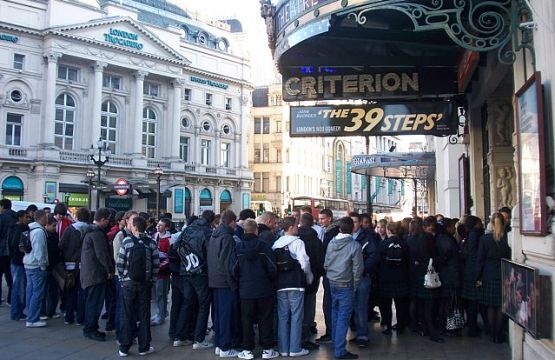 Teenagers assemble for our show at the Criterion Theatre in London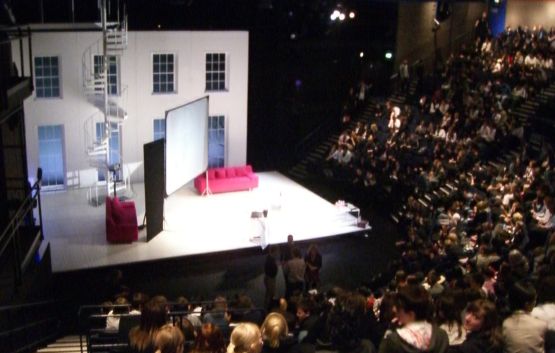 Performing with an exotic set behind us at Leeds. West Yorkshire Playhouse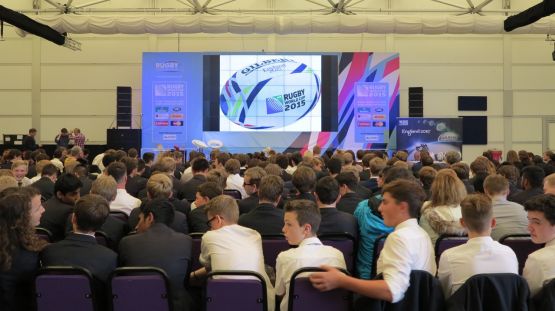 Preparing for a 2015 Maths Inspiration Rugby World Cup special, with guest Paul Grayson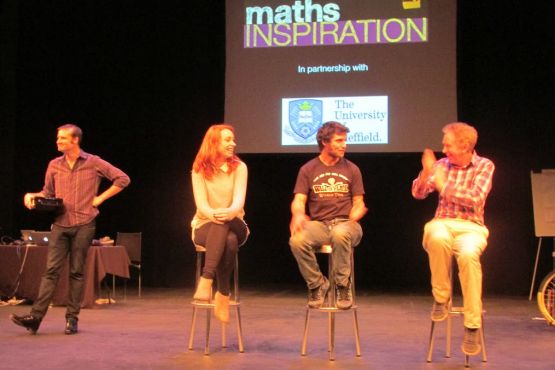 Matt Parker hosts the end of show Q&A with Hannah Fry, Guy Martin and Hugh Hunt