Our sponsors:
We are able to keep our events affordable for schools thanks to the generous support of our sponsors, in particular Admiral Insurance.

Events & Booking

We are now taking bookings for our summer shows for Year 9s and 10s. Please click on the tabs on the left for information about these and other shows.
We also have provisional dates up for our 2015-16 programme. We'll start taking provisional bookings for the autumn shows on July 1st.
See Maths Inspiration featured on BBC Breakfast Television here.

And read the feature article in The Guardian about us and the impact we can have on schools here.

Watch the ABC TV News report on our Australia 2015 shows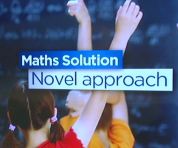 Courtesy of ABC TV News